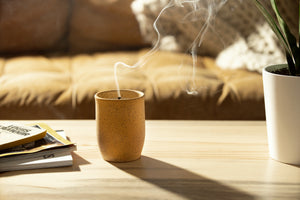 OUR STORY
The idea for Inland Candle Co. came when we found ourselves buying and burning a lot of candles that claimed to smell like the places and things we grew up experiencing, yet were being manufactured either overseas or in cities far from the Northwest. Needless to say, most of them simply missed the mark. They seemed to lack authenticity. So we set out to build a brand around authenticity. From the fragrances we formulate to the relationships we make along the way, we don't settle for anything less. It's the basis of who we are as individuals, and what we do as a company.
With that in mind, we strive to accurately capture the scents that awaken the wilderness nostalgia inside of us. Our hope is that the candles inspired directly by our outdoor experiences evoke similar memories in you. 

-Ransom & Sarah
"Beautiful scents, not overpowering like others and the burn time is incredible! The glass jar the candle comes in accents home areas nicely. Definitely purchasing again!"
"The scents are so calming and I love the aesthetic simplicity of the jars."
"Inland Candle Co.'s candles burn a long time and smell WONDERFUL! I am super impressed with their packaging and presentation as well."